6 Mini Importation Pre-Order Mistakes to Avoid 2023
Last Updated on February 6, 2023 by Chuks Amobi
Starting mini importation for most people could be challenging in terms of finance and inventory management. Not everyone could manage to invest from 30,000 worth of goods including clearing.
Managing inventory could be another challenge to anyone planning to start importing from China. The minimum order quantity ranges from 1piece – 10 pieces of products in most cases.
In a case where one really don't have to buy 2 pairs of sneakers when the need is just one, they start looking out for someone to pair with. This pairing gives them the convenience to shop comfortably. That is the inception of pre-order.
You can as well call it Group Buying. There is no obvious difference between pre-order and group buying. Group buying can also be pre-order, they can interchangeably be used.
Today, the idea of pre-order has evolved from the mutual pairing with friends and family to a monetizable opportunity. Those that could not afford to start mini importation now monetize pre-ordering to raise money to stand on their own.
If your friends hide how they run their pre-order from you, you're at a luck today. Before the end of this article, you should know more than they think they know.
In this article, I will point out few pre-order mistakes you should avoid before considering uploading pictures on WhatsApp or Telegram.
Exchange Rate,
Shipping and Clearing Cost,
Profitability,
Shipping Company,
Upfront Clearing charge or otherwise,
Refunds.
Exchange rate
The first thing to come to your mind is "What is the current exchange rate?", "What is the dollar rate now?", "What is the Yuan (RMB) rate to Naira?".
Avoid checking for the current exchange rates on Google! Google neither sell Dollar nor Yuan. This is the most common mistakes mini importation newbies do.
Even though that Google shows you the official CBN rate, that does not mean you should use that for your calculation. You're neither going to buy from Google nor CBN.
Your exchange rates should be calculated with the parallel market rate or black market. You will be buying Yuan from Alipay merchants, not CBN. For Dollar, shipping companies have their own exchange rate. Their Dollar rate is a bit higher than the actual parallel market rate.
Want to talk to Chuks about procurement & shipping? Talk to me on WhatsApp - +2347082111555
For example:
The Official Yuan rate is ₦59 but Alipay merchants sell it from ₦70 – ₦76. The rate is not consistent. It changes almost daily (You must ask before calculating your goods).
The official Dollar rate is ₦395 but shipping companies charge between ₦475 – ₦500.
You see, the differences are much. In a situation where you calculated your pre-order with Google rate, imagine the losses you will incur. If you had already told your pre-order group your prices, you can as well update them with the new rates.
Don't be too fast to rush into sharing the products to sell on your group or status until you finish reading this article.
Note: Alipay merchants are Chinese or Nigerians that help mini importers as you pay for their suppliers.
shipping -local freight depending on quantity, shipping from china to Nigeria – weight and clearing.
Shipping and Clearing Cost
Shipping includes the local freight fee from your supplier to the shipping company's Chinese address; shipping cost from China to Nigeria in KG and clearing cost in Nigeria in KG.
Most people misconstrue the idea behind local freight fee. Firstly, I will try to create an illustration of how local freight delivery works.
Let's use China as Nigeria
In the image above, we want to buy female handbags. As seen in the photos above, the suppliers are in Hebei and Guangzhou. Note that more than 95% of shipping companies are in Guangzhou.
Now, let's call Guangzhou, Lagos and Hebei, Kano.
Remember that more than 95% of shipping companies are in Guangzhou which is Lagos in our case now.
Gently follow along…
Now I want to buy from a supplier in Lagos and Kano so that they can send the goods to my shipping company in Lagos. Which of these suppliers do you think will charge me less in order to deliver to my shipping company in Lagos?
There is something else again…
Which of these suppliers do you think will deliver to my shipping company in Lagos faster?
All your guesses are mine.
That is exactly what happens when you buy from suppliers outside of Guangzhou.
Shipping delay
China is one of the largest countries with provinces that are far from the other. Delivery from one province to the other takes about 2 days (48 hours) with priority delivery at the same time takes 2-4 days with budget delivery.
Priority delivery can be seen with suppliers that charge from ¥10 – ¥15. They use a logistics company that delivers faster. Budget delivery would cost less but the speed will be less.
You actually don't have control over how fast your goods will be shipped to your shipping company. It may take some suppliers 24hours, 48hours or even 72hours to send your goods to your shipping company.
Another important thing to note: When you see a local freight fee on a product page, don't assume that is what you will pay. Local shipping fee is dependent on certain factors most people ignore;
The quantity of your purchases and
The location of your shipping company.
Lest I forget…
How do I calculate the weight of my goods before sending to the shipping company?
Conventionally you can't be sure of their weights but technically you can find a walkthrough. Most of the products on 1688 would not show you their weight. When the weights are not listed on the page, you would just do mind games.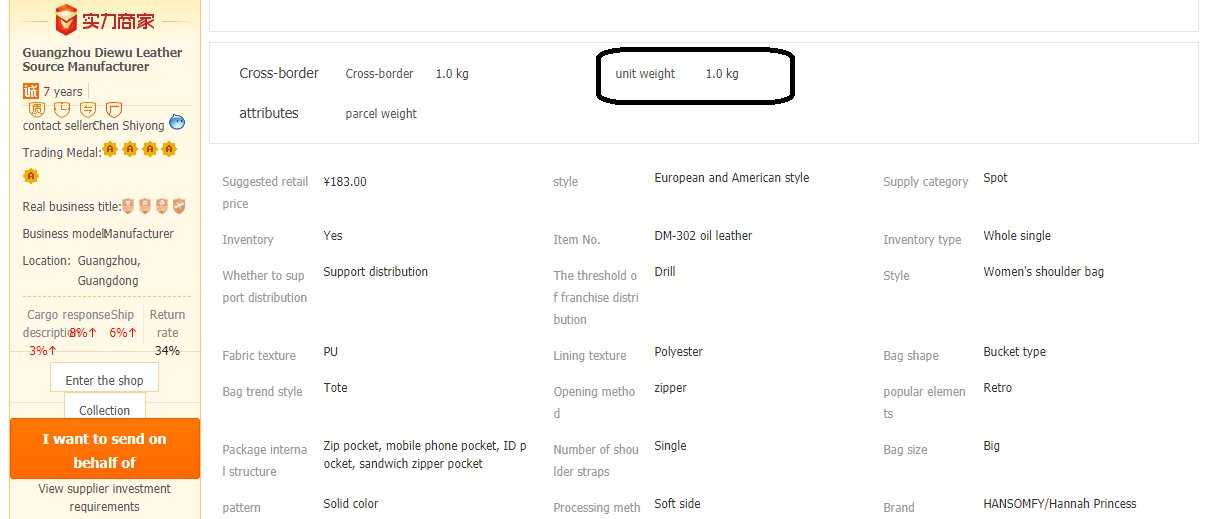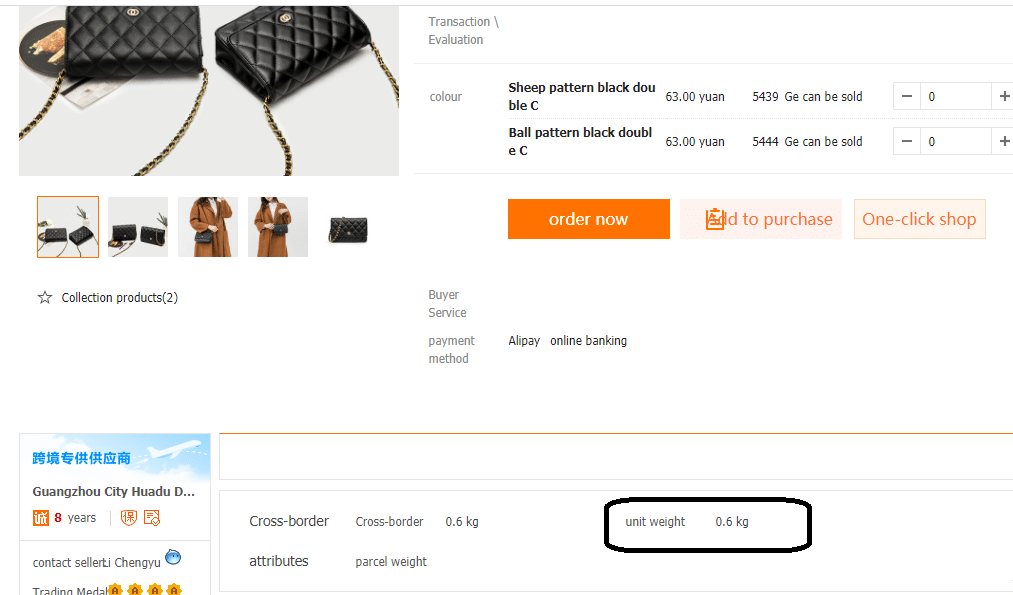 In the photos above, both weights are listed but you should not believe them. You can use these weights in your calculations. You can as well measure your bag, shoes, sneakers using a weighing balance.
If you don't have a weighing balance, take it to the guy that refills cooking gas, use his weighing balance in order to get a real idea about weights.
Profitability
Every business needs profits to grow. I believe that the main reason while you're considering mini importation and pre-order is to make money.
In businesses we don't own, we try our best not to be kicked out by competition. Businesses we don't own as in products we do not manufacture by ourselves. Something that a lot of people buy from different sources. It is controlled by pricing.
The cheaper or more affordable the same product is, the more appealing it looks to potential customers. So, we have to outsource ours as cheaper as possible in order to maximize profits.
Now the question becomes "How do I get my profits?".
These are what you have to consider
Outsource suppliers to find the best deals – suppliers with considerably cheaper listings,
Focus more on suppliers that are within the same province as your shipping company
Don't hike your markup – the amount added to the cost price of goods to cover overheads and profit.
Depending on how you want to make profits, start with
The dollar exchange rate at ₦500,
Clearing fee at ₦600
Add ₦500 to the cost price.
Even if these rate increase in future, it won't affect your profits.
Remember, a lot of people are actually importing and selling the same products on Jumia, Jiji at considerably low prices. We would want to give our pre-order geng the convenience to remain loyal to us.
Isn't it?
Shipping Company
Hmm, looking for the best shipping company that charges less and ships within 7 days?
That is like a prayer of a young woman asking God for a "faithful, truthful and rich husband".
Of course, there is a possibility.
Mini importation is an experience that everyone into it would need to feel. There is no best shipping company.
Ask your friends for a recommendation. Leave pride on the self-made mini importer. Ask for their recommendation. Don't just rush into a shipping company that promises sweet rates but delays your goods to the extent of your customers opting out.
Sadly, I don't recommend any to anyone. If you would need my procurement services, I will list the pros and cons of the shipping companies that I use to send goods to Nigeria.
Upfront Clearing fee or Pay for clearing fee when goods arrive
Upfront clearing fee simply means charging people on your pre-order list the cost of clearing all the goods. This is the safest way to avoid the drama of refusal to pay their clearing cost on time.
The only challenge with this model is calculating the exact shipping cost in order to avoid being in deficit. Is there a way to accurately calculate the shipping cost of each item?
The answer is No. But there is always a walkthrough. I have seen people who run pre-order or group buying and charge both shipping and clearing fee as well.
This reduces stress and excuses from people. It is very fast.
Charging your pre-order list after the goods are shipped and received in Nigeria is good too only if your pre-order list is reliable.
You don't have to keep begging people to pay up for their shipping charge. Some would even tell you to sell off the item and remove the shipping and clearing charges inside.
That is terrible.
Even though shipping and clearing fees are inconsistent, you still have to add both shipping and clearing inside. Just like I mentioned above on shipping and clearing, raise the rates a bit clear, then add an extra 500naira.
If the shipping company you will be using charges $6.8 per kg, raise it to $7.2 – $7.5. Do the same with clearing just like I have earlier told you.
Accepting Refunds?
I would say No unless you have a plan to sell that particular product. Let it be known to them that refunds are not allowed.
I know that most reasons people request refunds are as a result of delayed shipping. What to do? Communicate with them the shipping intervals. Delays are bound to occur, it is none of your business nor doing.
It just happens.
Conclusion: I am quite overwhelmed to have shared this with you. It is now left for you to weigh what you have just read and find out how they can be useful in your pre-order business. If you need a procurement agent, I will be delighted to work with you to your own best experience.
If you needed mini importation mentoring, we offer a first-class mentoring package and luckily, it is very affordable. More enquiries – +2347082111555
Feel very free and open to share your thoughts in the comment section. Ask us anything mini importation.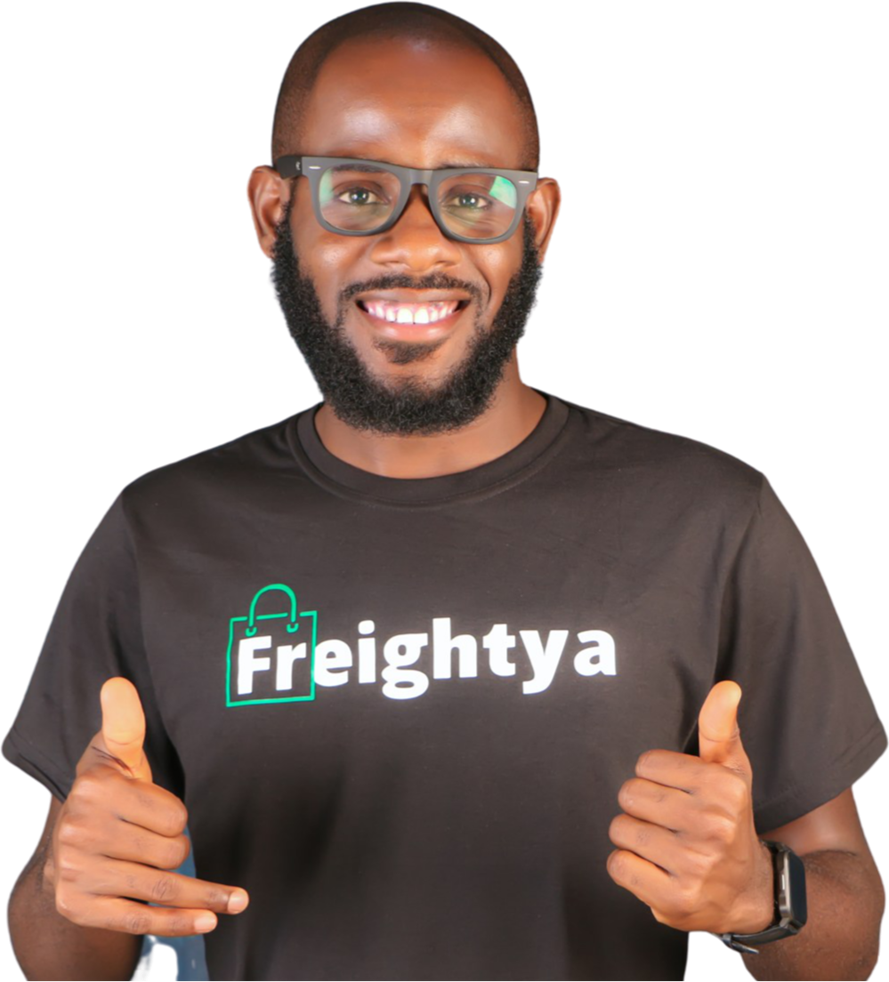 CEO & Founder at Freightya. He loves sharing useful information for small business on importation. He is unbiased in his thoughts. For importation, mentorship, feel free to reach out to Chuks.