Savings to Invest on Mini Importation
Last Updated on January 26, 2023 by Chuks Amobi
One of the weird experiences of any young business is poor accountability management. It would seem like money-miss-road or sometimes projected to the village people.
Actually I was in that mess when I started my mini importation journey.
Poor accountability management simply means not taking into details how money leaves or enters your business.
At least one has to make mistakes. It even appears to compulsory make mistakes as a human being.
Mistakes and learning from the experiences hone perfection.
When I started, I made four mistakes in four consecutive orders from China. My plan was to start a brand.
It was obvious that I carried my assignments from outsourcing, payment and shipping to Nigeria.
Although, I was very careful because I used Excel to lay out my orders including their landing cost price, selling price, weight etc.
But I was so much concerned with making sales, putting those proceeds inside my pocket without minding whether it is torn or not.
Of course, I made quite good sales within the first month. But how much was I able to take account of?
What is Financial Management?
Let's say you sell female handbags. Your financial management practices will include everything from the moment you start to think of what handbag to buy.
Want to talk to Chuks about procurement & shipping? Talk to me on WhatsApp - +2347082111555
This means that all activities involving how money will be put in place in your business, your budgeting, how money enters, how money leaves your account, and reinvestment plans.
Just like we assumed that you sell female handbags, our total initial savings to invest into female handbags business might be ₦50K for a start including shipping to Nigeria.
From the image above, if you're to order 10 pieces of this beautiful handbag, it would cost you 43.00 * ₦53 = ₦2,279 per bag.
Then 10 pieces of this bag will cost you ₦22,790. Out of your ₦50K, you have ₦50K – ₦22,790 = ₦27,210.
Let's say that express delivery to your shipping company's address cost you ₦1000. You now have a balance of ₦26,210 at hand.
That's not all yet!
How much will it cost you to ship 10 female handbags to Nigeria or your own country?
Let's say that each bag weighs 180grams which is 0.18KG. 10 pieces would be 0.18KG * 10 = 1.8KG. Let's round everything to 2KG.
The average shipping rates from China to Nigeria is $4.5 per KG and ₦450 per clearing for handbags (non -battery goods) using Normal Air Cargo.
If we do the math well, it will cost you ₦4,185 to ship a 2KG 10 pieces of female handbags to Nigeria.
The total money we have at hand after deducting shipping fee becomes ₦26,210 – ₦4,185 = ₦22,025.
Out of your ₦50K you went to market with, you bought 10 pieces of female handbags then came back with ₦22,025 change (balance).
That's a good market!
Miscellaneous expenses would be on procurement agent or waybill to your current residence if applicable.
Now, you're sure that ₦50K can really buy 10 handbags with reasonable change.
Taking Accountability to the next level
Before you go ahead to import, you must do what I am about to tell you.
Take note of the following
The product's landing cost,
Its markup,
Marketing cost per products,
Then delivery charges.
Landing costs involve two factors.
The actual cost of the item as seen on 1688 product page. In our case, we saw 43RMB.
The actual cost + shipping costs including local options if applicable
I learnt beginners in mini importation do not take this part into consideration. They just buy and ship to their country.
For your money management to be outstanding, you must add the costs of the item you are buying to its shipping costs before you decide your markup.
A markup is a difference between the selling price and cost price. From your handbag, the total cost price including shipping to Nigeria is ₦2597.
If you decide to sell it at ₦5000, then your markup becomes ₦5000 – ₦2597 = ₦2402. That is your gain.
If after calculating your selling price but found out that it will be pricey than what it is being sold, then you may kill the purchase in order to avoid the risk of unsold items unless you will have a special packaging and irresistible offer to make.
Considering whether free shipping or paid shipping
Generally, customers love to see free shipping. It takes away the burden of paying extra.
Paid shipping still work but free shipping is more preferential among customers. I love free shipping as well.
So how do you deal with it?
More than 95% of free shipping is entirely not free. If it will cost you ₦1500 on a flat rate to deliver to customers in every state in Nigeria, then add ₦1500 to your selling price.
Your customers won't argue about it because they have little or no idea of what you did.
Imagine selling a handbag ₦5000 plus ₦1500 shipping and ₦7500 Free shipping.
The thing is that people are easily attracted to the word FREE. Make sure you add the shipping fee in the selling price.
What are your Marketing Plans?
Marketing is a very important aspect of business very small scale businesses fail to put more focus on.
When I started, I started with almost ₦250, 000 as you can see in the image above after the 8th paragraph.
That was all the money I have with me. My thought was once they are delivered to me, I will start making sales from my Facebook and WhatsApp friends.
Sadly, it never happened.
Fortunately for me, I could run Facebook and Instagram ads. But that wasn't a total relief.
You see, as you plan the big money for your mini importation, you should also take big consideration on marketing.
One of the big mistakes I made was not having a marketing plan and budget.
Having a marketing plan is not about posting pictures on WhatsApp stories, Facebook and Instagram feeds nor even bosting posts on Facebook.
In my first five attempts, I spent so much money on advertising alone. I sold off my products but half of the proceeds were accrued on advertising, delivery and mincing with my personal bank account.
Advertising is not a thing to scare you with. You can sell tons of stuff through advertising but that should be in the right approach.
As you are considering what to buy, make sure you add at least ₦2000 as its advertising cost.
In our situation here, you are buying 10 handbags with each costing ₦2597.
Let's say you want to sell this bag, it would be ₦2597 cost price + ₦1500 delivery fee + ₦2000 advertising budget = ₦6000.
Hmm!
Can you sell this bag for ₦6000 + ₦2000 gain which is ₦8,000?
I don't know what you think but some people still do that. Study how your products will be sold before bringing them over.
My Money-Miss-Road Trauma
If you don't have a corporate account or even a personal account that can only be accessed with your business, then you MUST do that now before 2020.
I deceived myself in a bid of trying to be smart. Here is what I kept telling myself
All the money will be in my personal account, it is still my money. After everything, I will substract my money out
Well, I ended up touching the proceeds until I was wrecked. But it was a special circumstance for me.
Just like I earlier mentioned. I spent my little money on importing from China to Nigeria without provision for marketing.
So, the little money left in my account was used for advertising and delivery.
Since I was using my personal account to fund my business, I got paid into the same account.
Interestingly, I withdraw from the same account for my personal needs. Why won't the money miss road?
When the time for accounting came, I was in deficit. I had spent more only on advertising.
Funny enough, I was selling ₦6000 products with less than ₦2000 gain. I haven't added advertising cost and delivery.
I was totally messed up.
Here is my Mini Importation Advice to you
Define your budget
Understand your budget
Define your marketing plans
Mark out your marketing budget
Get a dedicated business account. If you cannot get a corporate account, get another personal account or your other account that is not too active. Throw away the ATM card.
Get an expert to help you with marketing in order not to waste your money as I did.
Document every single transaction in a spreadsheet including advertising and delivery.
With these, your money management will have a greater dimension.
If you have anything to add, suggestions and questions, please feel very free in the comment section.
Compliment of the Season to you!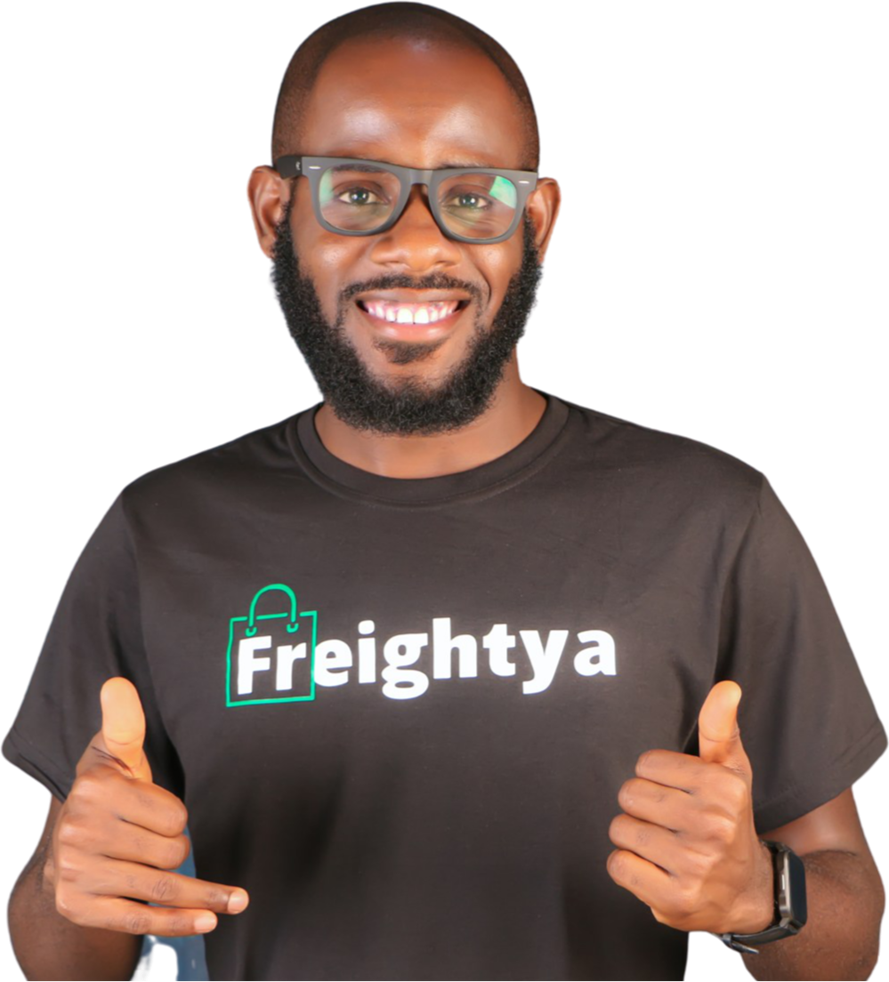 CEO & Founder at Freightya. He loves sharing useful information for small business on importation. He is unbiased in his thoughts. For importation, mentorship, feel free to reach out to Chuks.